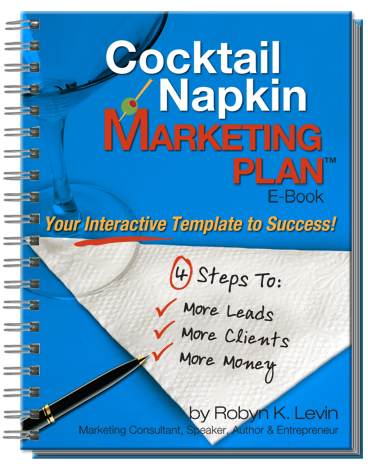 At a recent National Speakers Association (NSA) meeting, I heard that eBooks were becoming popular again and this is just the beginning.
In 2004, I helped my client, PENSCO Trust create an eBook and we are still using this today as an excellent lead-generation tool. We offer the eBook on the company website and on the CEO's blog as a free download.  It's also promoted at live events. If you ever want to learn how to invest your IRA or pension funds into real estate, private equity, secured notes or more, check out this eBook. Why not do the same for your business and write an eBook on your expertise?
If you're a small business owner or entrepreneur seeking quick marketing help to get you focused and you want to learn cost-effective ways to grow your business, this product is for you–  The Cocktail Napkin Plan® is an interactive ,pdf document and short eBook that actually generates a strategic marketing plan in less time than a short plane ride. No software needed! Imagine watching your plan unfold, based upon 4 thought-provoking exercises, tips and proven techniques. Now's the time to look at your business and discover how to grow it strategically without wasting your marketing money. I created this product and eBook from the many requests I received over the years from overworked and overwhelmed business owners. As an entrepreneur, I could relate. They just wanted a simple marketing plan to get them organized and focused. Your custom plan will actually fit on the size of a cocktail napkin, which is why it's called the Cocktail Napkin Plan to market your business. Read what clients are saying about this unconventional marketing plan.
Posted under The Cocktail Napkin Marketing Plan™
This post was written by Robyn on August 26, 2008