Many business owners and marketing executives ponder this question daily – Have you really seen ROI from Social Media?
I read this blog post and case study by talented author, Timothy Ferriss of The 4-Hour Workweek. By the way, this book is a great read, if you haven't read it already. After I read his book, I was ready to run to Malta and Italy and run my business from the Amalfi Coast. Here's a brief glimpse into his blog post so you get the idea of his educational non-profit campaign using Twitter – "Tweet to Beat." Ferriss says, "The gist: To benefit U.S. public school students, I will bribe the entire world to follow me on Twitter for $3 each."
"Social media marketing! Twitter consultancies! Conversational communications! Oh, these are exciting times. It seems like everyone and their grandma are getting into social media.
On a whole, I think this is a good thing, but here's the problem: whenever technology becomes fashion, return-on-investment (ROI) tends to get lost in the excitement of the latest .com catwalk.
It's going to help "the brand"? Show me data. It's going to drive more "awareness"? Define it, isolate it, and translate it into a sales increase? In this post, we'll look at some real numbers (total capital, conversions, redemptions, etc.) from my latest educational non-profit campaign, the Twitter-based Tweet to Beat, which was a follow-up to the blog and leaderboard-based LitLiberation campaign, which outraised Stephen Colbert 3-to-1 with no staff and no material hard costs…"
You can read the rest of his story about Social Media and ROI here.
If you're struggling with all the new terms and tools and feeling a little stale with your marketing; attend my GET SMART Marketing Boot Camp this Friday, May 15th in San Francisco to jumpstart your social media marketing campaign. You'll learnhow to cost-effectively improve your results in this 1-day semi-private interactive program. Guaranteed you'll learn how to grow your business in new and profitable ways!
Learn more and SAVE $100 instantly with this special code– twit515 when you register for the Marketing Boot Camp.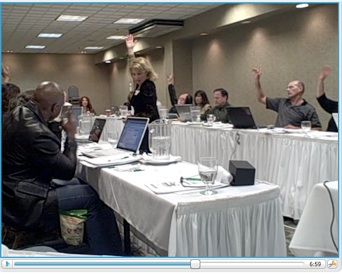 Posted under Marketing Trends, Social Media, The Cocktail Napkin Marketing Plan™
This post was written by Robyn on May 13, 2009